Saturday saw Whiston host the English Schools Cup : NW Regional Finals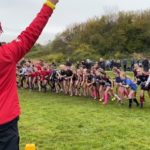 In the u15s Boys; Michael Henderson (15:52) pushed clear of 3rd late on to secure 2nd overall, quickly followed home by Oscar Davidson in 5th (15:40), Stanley Benson 9th (16:09), Gideon Lucas 12th (16:16) and Conrad Lucas 40th (18:49) followed in the u13s by James Kearsley finished 53rd (14:46).
In the U13s Girls; Iris Davison 29th (13:05) was accompanied soon after by Erin Frost 34th (13:17), Katy Nicholson 38th (13:29), Eve Hannaway 46th (13:45) and Olwyn Benson 61st (14:34).
Elsewhere this weekend:
Coach, Mark Bleasdale (52:07)  took 3rd V55 at Manchester's Heaton Park 10k whilst Mark Hudson (1:38.29) added the international jet-setting flair by finishing 3rd V55 at Malta's Zurrieq Half Marathon.
Further north at the Lancaster series Half Marathon; Thomas Harkin (82:47) boosted his PB to finish 11th whilst Annabel Rigby (1:55.57) also boosted her PB finishing 31st.
ParkRun:
At Southport; Tom Harkin warmed up for Sundays Half in fine form (18:14) whilst Iain Wright improved his course PB to 22:30
At Kew Woods; Stephen Lennon(21:03) improved on his course PB chasing the illusive #1 token
Report by Dan Gilbody