Wow, what a busy weekend of events!
Well considering there was no league races this weekend our athletes have had a really busy few days either representing their districts, taking part in 10k, 5 mile events, participating in the BUCS cross country for Edge Hill University, running in the welcome return of the Halewood 5k or casually becoming the 6th fastest V50 of all time.
Here's a brief summary
Schools county cross country championships
We had a number of our younger, intermediate and a few of our older athletes representing West Lancs, Chorley and Preston districts in the Lancashire Schools Cross country at Witton Park, Blackburn. A similar event for Merseyside took place at Arrowe Park but the results have yet to be published.
At Blackburn, we had some really good performances from all of our athletes with a number qualifying to represent Lancashire in the English Schools at Hop Farm, Kent,in March. As of today we have 3 Lancashire vests, Se Loughlin, who finished 3rd in the senior race, Myles Fraser who finished 2nd in the junior boys and Sarah Yates  in the junior girls, who qualified despite being sent the wrong way by the marshals whilst leading after the 1st lap.
The conditions represented the arctic rather than East Lancashire, so well done to all of the athletes competing. In addition to those mentioned above we had strong runs from Toby Farrer and Daniel Liggett in the junior boys race with Oliver Farrer, James Read and Isaac Dickinson all holding their own in their events.
Megan Lloyd and Anna Yates turned out consistently strong performances in the inter girls race and were part of the West Lancs team who finished 2nd in the team event.  The girls in this age group perform really well at club level and are a great team.
It was really good to see some 1st time runners too, our young athletes (year 7) like Andrew Wilson braving the cold and finishing well, the conditions were atrocious and I was glad of my coat, jumper , waterproof trousers and scarf 🙂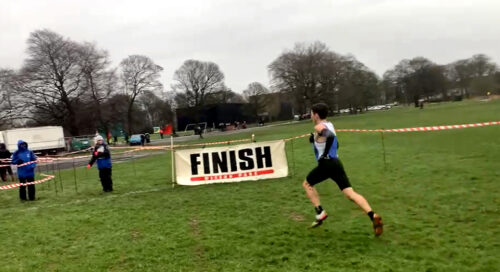 Sé Loughlin crossing the finish line
The Walton Halewood 5k
This is a really good event hosted by our friends at Knowsley Harriers and raises awareness for the important work done by the Walton Centre.  It happens on the 1st Saturday of each month, more details can be found here .  I believe this is the 1st event since lockdown, so it's a real welcomed return.
Four of our senior athletes took part in this yesterday with Chris Melling finishing in 5th place overall in 17:27.  Andrew Conway finished 3rd in his age category (V55) in 22:07 and Robbie Wood, also 3rd in V60 with an equally impressive 22:41.  A special mention to John Dobie, who was the 2nd oldest participant in the race (V75) yet still completed in 27:21! Fabulous achievement.
Southport Mad Dog 10K  
Joanna Durkin represented the club with Matt in dismal conditions at Costa Del Southport. Joanna finished 4th lady in a time of 42:42.  That's pretty good going after the wet and windy Kew Woods park run the day before where Phil Macdonald came in 1st finisher, 3 places ahead of Greg Callaghan.
Also running in the Mad Dog representing the club were Father and Son team Farrer!.  Keith (51:46)  and Oliver (48:11) both running impressive times with progressive 5k splits.
In the junior version of Mad dog – Crazy Pups, another member of team Farrer, Toby, was 1st finisher. As you can see, he looks very comfortable on the photo.
Alsager 5 mile
Kirsty Longley continues to push barriers and finished 1st V45 lady (5th overall!!) at a very windy Alsager.  Her time of 28:35 puts her 5th in the all time rankings.
British Masters Athletes
Al and Sarah Grant ran in the Great Bentley half marathon in Essex.  Al finishing 4th in his age group in 1:23.23 and Sarah finishing 6th in her age group returning a very decent 1:35.23
Masters Grand Prix – EIS, Sheffield
Whilst many were outside in the cold, wind and rain this weekend, our very own British Master, Tony O'Brien was quietly going about what Tony does best! Setting standards yet again as he became the 6th fastest V50 of all time over 1500m indoors clocking 4:14.
Yet another proud achievement for him and the club – It's worth noting that Tony has already notched British records in 1 mile and 3000m in the last year.
BUCS Cross Country
Well done to Chloe Leather who finished 58th in the BUCS cross country.  Chloe along with Jamie Ford, Cara and Ben Kirkman – all of whom train with LPS, were impressive in the Universities championship which has an incredibly high standard.
And finally …..
Away from running we were represented at the Northern Indoor championships by Marbs Casey, who came in 6th in the shot whilst smashing her PB by 0.76m to record 7.77m in the U13 event.