A week into May and Team LPS are already moving with intent.
Coach Mark Bleasdale accompanied by Greg Callaghan led by example and ran the Astley Park Trail race on Wednesday evening, Greg completing the 4.6 mile course in 24:32 and Mark in 32:11.
On Saturday, we continued to show our support for local community events and helped make the 100th Kew Woods Park run a success.  It was certainly a success for LPS with 8 of the 1st 9 finishers all from our club.  In doing so,  Greg Callaghan (19:44) and Phil MacDonald (19:46) both got PBs. …… Apparently it's not a race …. Yeah ok.
Here's a photo of Team LPS at Kew Woods, great to see some sporting the club colours.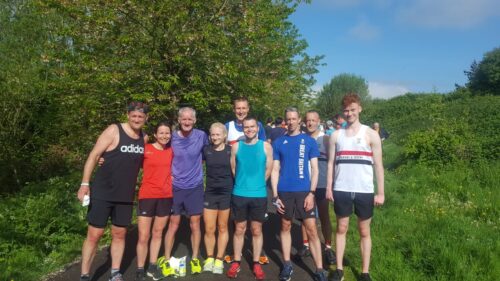 As per usual, the 1st Saturday of the month means it is the Halewood 5k. Our friends at Knowsley Harriers use the 5k race series to raise both funds & awareness of the Walton Centre for the good work it does. This month we had Tony O'Brien, Andrew Conway and John Dobie all competing.  Not sure which of the three is the most evergreen but Tony came home in 1st place in 16 minutes almost a minute ahead of 2nd. John Dobie our V75 runner finished in a superb 27:18 with Andrew Conway on all the 2s 22:22.
Ladies Team Captain, Joanna Durkin, in her 2nd run of the weekend finished 2nd lady in the Blackpool Beaverbrooks 10k. Well done Joanna for breaking the 41 minute barrier (40:59)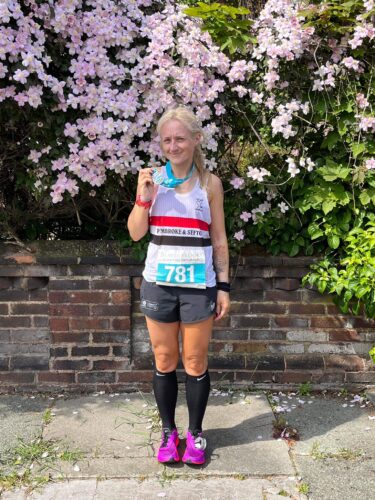 Mid Lancs League Match
On Saturday that well known Mid Lancashire town of Carlisle hosted a track and field event in the Mid Lancs league.  Despite the requirements of a passport and crossing time zones, we had a small number of athletes and officials representing the club.
The event gave an opportunity for our younger athletes to try different disciplines, it was encouraging to see Marbs Casey in the relay, William Roberts in the Long Jump, Dan Berry in 200m  and Katelyn Swift in the 200m as well as their preferred  events.
There were some notable performances on the day across the team, thanks to Neil Roberts for the photos.
Ethan Edwards smashing the competition in the senior men 200, finishing 1st by 1.5 seconds.
Debbie Dasse, still recovering from an operation finishing 3rd in the long jump but the took 1st position in both high jump and triple jump.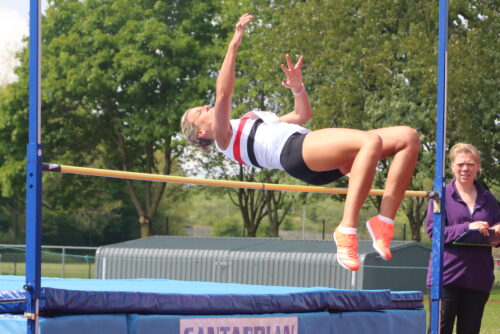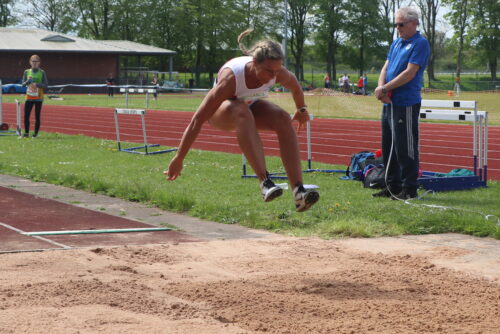 Iain Wilkinson taking 1st place in the senior shot and javelin events
Daniel Berry taking all the points in u15 boys 400m as well as running the 200m and finishing 2nd in long jump.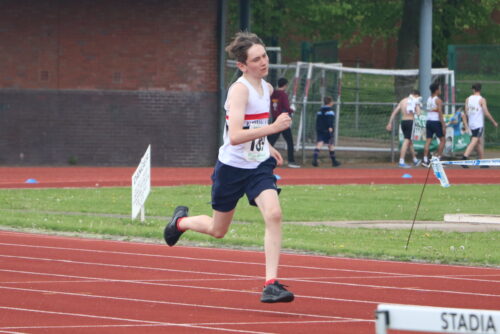 Haydn Grant finishing 2nd in u15 boys 800m, in what I believe is a PB
William Roberts winning the u13 boys 200m then finishing 2nd by one tenth of a second in u13 boys 800m.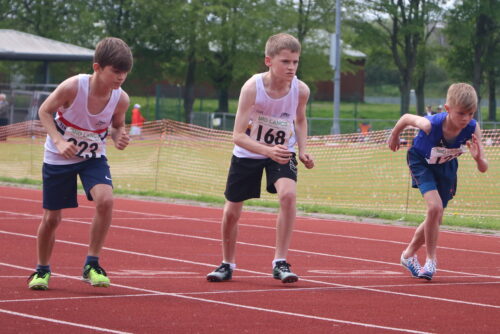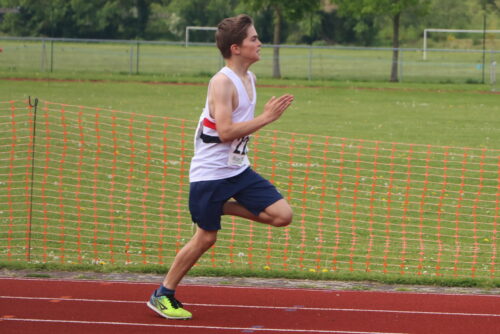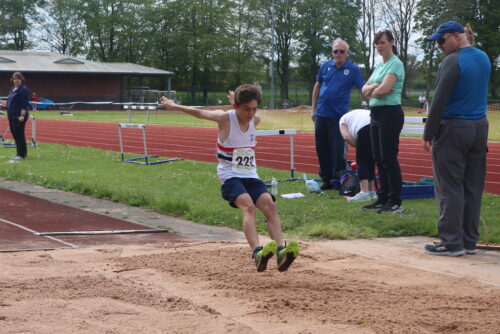 Laura Purdy, running in the women's 100m finishing 3rd in 16 seconds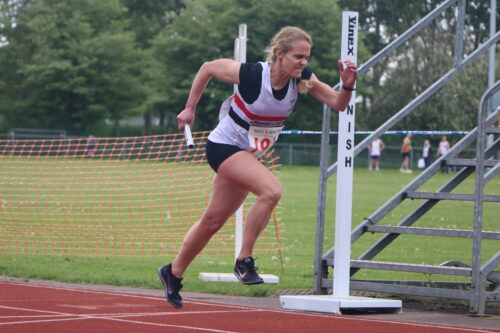 Then Nicola , Bethany and Katelyn swift made it a family affair as they finished (Nicola) 2nd and (Bethany) 3rd in the discus followed by Bethany's 2nd place in Javelin and Nicola in the hammer throw.  Not to be outdone, Katelyn finished 2nd in 200m and 1st in hammer and discus.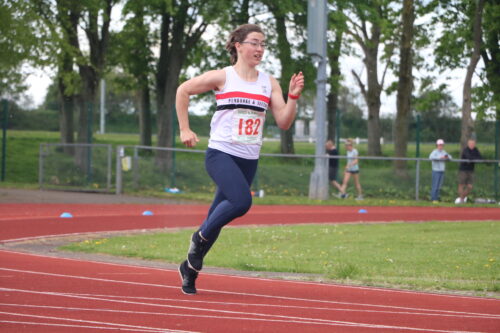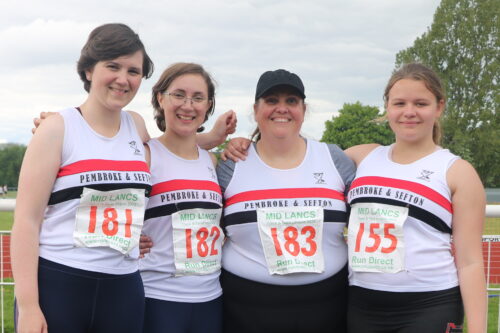 Margaret-Isobel Casey (Marbs) finished 2nd in the hammer whilst competing at the age grade above her. She then went on to claim all the points in the discus and shot. She really is a future star of field events.
These events could not take place without a team of dedicated officials. So let's take this opportunity to recognise Dave and Karen Brown, Sharon Roberts and Laura Purdy for their contribution to making these events a success.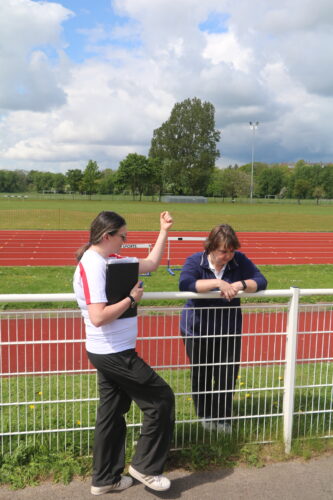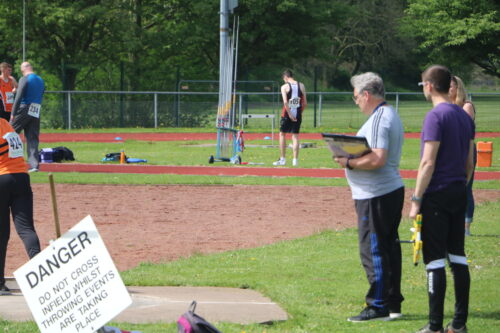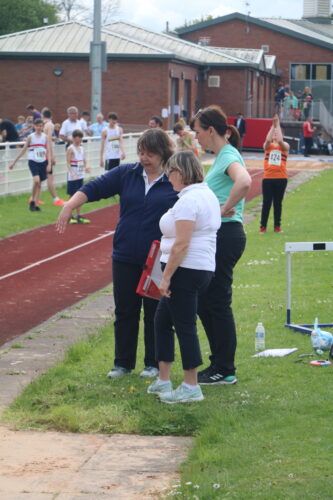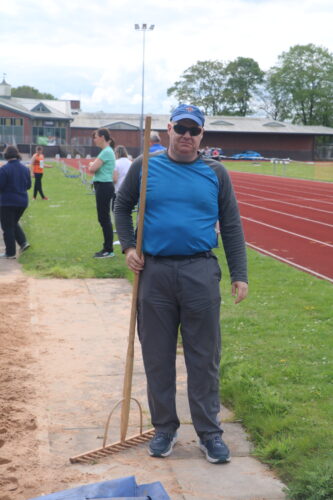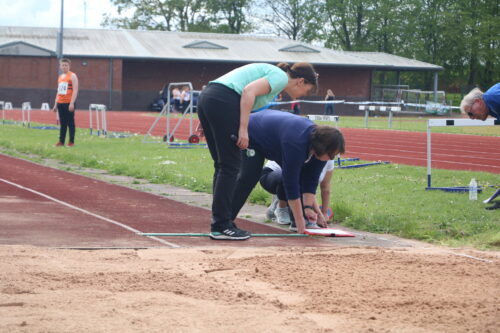 Finally, a big well done to Iain Myers who retained his Crosby beach hopscotch title from 1981.